ASSISTANCE TO NEW AUTHORS:
(BOTH PAPER & eBOOK Editions)
Important Notice:
As from January 1st,2022, do not use the direct Paypal account to purchase the book!
Instead, kindly send an email to : REZASAR@HOTMAIL.NO and indicate your interest in the book. You will be contacted accordingly.
As a Professional Engineer turned Writer, Dr Eng. Reza Sarmast/ ICRS, can assist all those who aim to publish their own book. This comprises all stages of book preparation including:
- Manuscript development
- Cover Design and graphics
- Contact with Authorities and Publishers
- Printing and Promotions (Local and Global)
Current Book project:
ICRS is currently working on a book titled " 100 years of Iranian Oil". This is a collaboration project with others including International institutes in Iran, Netherland and the UK,
ISBN: 978-82-690238-0-0 .
Previous Book Projects:
a) Paper Publication:
As a Professional Engineer turned Writer, Dr Eng. Reza Sarmast/ICRS has published a book titled :
"Who says it is not fun to be an Offshore Engineer in Norway?"
ISBN: 978-82-303-2023-5
The book has been highly praised and had its maiden launch in June 2012 at Litteraturhuset in Oslo, see the link:
LINK TO LITTERATURHUSET LAUNCH, OSLO-13.06.2012
http://www.litteraturhuset.no/program/dag.html?d=2012-06-13
For this and other book-launch presentations refer to the links at the ANNOUNCEMENT page of this web site.
b) eBook Publication:
Formal eBook release occured in the form of a special seminar for October 29th of 2015 at ENGINEERIUM (Aker Solutions) at Fonebu (near Oslo), see details in ANNOUNCEMENT page of this web site.
This publication includes implementation of all comments received for the paper-back edition and consists of coloured pictures for each chapter.
It is tailored to suit three current eBook formats:
- .pdf format for ADOBE Acrobat
- .epub format for APPLE iBooks
- .mobi format for AMAZON Kindle
Read Author´s notes and the reason for eBook edition at the link below:
userfiles/eBook-AuthorNotes.pdf
Comments on eBook edition by a visiting Journalist in Canada:
userfiles/JOURNALIST-TORONTO.pdf
Background for writing the book may be downloaded from the link below:
userfiles/Background-for-Book.pdf
c) Reader Comments:
After reading the book, a young reader (educated in the UK), gives the following comment::
"I rarely read books in paper, but this one is an exception. I found myself reading it enthusiastically from cover to cover. Well done Mr Pushkar!"
See other comments in the link below:
LINK TO A SAMPLE OF READER COMMENTS
ICRS aims at further promotion of this book, including issuance of an eBook version and also international launches, to address a larger audience The book is in English. However a few pages consisting of; Preface, Introduction, Epilogue, and Back-cover, are in Norwegian ( for International buyers, English translation of these accompany the book):
LINK TO DOWNLOAD TABLE OF CONTENTS
Download English translation of Norwegian pages:
userfiles/ENG-OF-NORW-PAGES.pdf
---
The book can be purchased via the links below:
Paperback edition:
ISBN: 978-82-303-2023-5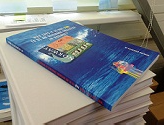 100 NOK (approx. 15 US Dollars)
eBook edition:
ISBN for ADOBE-Acrobat publication: 978-82-303-2544-5
ISBN for for APPLE and AMAZON Kindle publication: 978-82-303-2885-9
100 NOK (approx. 15 US Dollars)
Options: Acrobat PDF/ Apple iBook/ AMAZON-Kindle
Download a sample chapter from E-book for free
chapter-1-north-norway-1982-sample.pdf